You are reading the page dedicated to the song. You may have been wanting to read about Starving (Remixes), the EP.
"Starving" is a song by American actress and singer Hailee Steinfeld and American electronic group Grey featuring Russian-German DJ Zedd. It appears as the fifth track on the Japan edition of Hailee Steinfeld's debut EP Haiz, and it is also the fourth and final single from the EP.
Background
Hailee Steinfeld penned this song with Los Angeles-based production duo Grey and German-Russian DJ Zedd. "Zedd and I have been friends for a while now, so we've been wanting to collaborate," said Steinfeld. "He called me up, and said he'd just finished a track he wanted me to hear. I rushed to the studio and immediately fell in love with the song."
"The next day he introduced me to Grey, and we began recording right then and there," she continued. "We knew we had something special, because it all happened so fast and with such ease. It was so fun, and pretty amazing, to have this chance to work closely with friends who are so immensely talented. We couldn't be more excited about it".
Critical Reception
Katherine Barner of Idolator called the song "a dreamy, teen romance anthem". Teen Vogue's Isis Briones said "[Starving] has a soft guitar start and builds up to a mellow dance tune, perfect for a low-key summer night with your best friends. Thanks to the catchy lyrics and Zedd's smooth transitions, you'll instantly pick up on all the words to the song after just listening to it a few times. There's no doubt this single will soon top the charts, so get on it early and add it to to your playlist ASAP".

Music Video
The music video was released on September 27, 2016. It was directed by Darren Craig. Grey has also a cameo appearance in the video.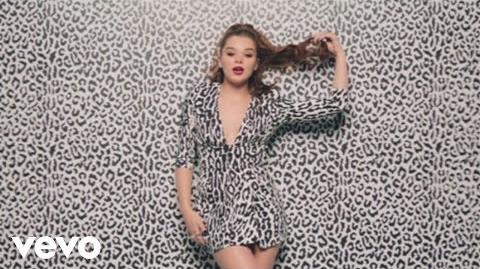 Lyrics
You know just what to say
Shit, that scares me
I should just walk away but I can't move my feet
The more that I know you, the more I want to
Something inside me's changed
I was so much younger yesterday, oh

I didn't know that I was starving 'til I tasted you
Don't need no butterflies when you give me the whole damn zoo
By the way, by the way, you do things to my body
I didn't know that I was starving 'til I tasted you
(I didn't know that I... I didn't know that I... 'til I tasted you)
(I didn't know that I... I didn't know that I... 'til I tasted you)
By the way, by the way, you do things to my body
I didn't know that I was starving 'til I tasted you

You know just how to make my heart beat faster
Emotional earthquake, bring on disaster
You hit me head on, got me weak in my knees
Yeah, something inside me's changed
I was so much younger yesterday, aye
So much younger yesterday, oh, yeah

I didn't know that I was starving 'til I tasted you
Don't need no butterflies when you give me the whole damn zoo
By the way, by the way, you do things to my body
I didn't know that I was starving 'til I tasted you
(I didn't know that I... I didn't know that I... 'til I tasted you)
(I didn't know that I... I didn't know that I... 'til I tasted you)
By the way, by the way, you do things to my body
I didn't know that I was starving 'til I tasted you
You, yeah, 'til I tasted you
(I didn't know that I... I didn't know that I... 'til I tasted you)
By the way, by the way, you do things to my body
I didn't know that I was starving 'til I tasted you

The more that I know you, the more I want to
Something inside me's changed
I was so much younger yesterday
You know just what to say
Things that scare me
I should just walk away but I can't move my feet
The more that I know you, the more I want to
Something inside me's changed
I was so much younger yesterday, oh

I didn't know that I was starving 'til I tasted you
Don't need no butterflies when you give me the whole damn zoo
By the way, by the way, you do things to my body
I didn't know that I was starving 'til I tasted you
(I didn't know that I... I didn't know that I... 'til I tasted you)
(I didn't know that I... I didn't know that I... 'til I tasted you)
By the way, by the way, you do things to my body
I didn't know that I was starving 'til I tasted you

You know just how to make my heart beat faster
Emotional earthquake, bring on disaster
You hit me head on, got me weak in my knees
Yeah, something inside me's changed
I was so much younger yesterday, aye
So much younger yesterday, oh, yeah

I didn't know that I was starving 'til I tasted you
Don't need no butterflies when you give me the whole damn zoo
By the way, by the way, you do things to my body
I didn't know that I was starving 'til I tasted you
(I didn't know that I... I didn't know that I... 'til I tasted you)
(I didn't know that I... I didn't know that I... 'til I tasted you)
By the way, by the way, you do things to my body
I didn't know that I was starving 'til I tasted you
You, yeah, 'til I tasted you
(I didn't know that I... I didn't know that I... 'til I tasted you)
By the way, by the way, you do things to my body
I didn't know that I was starving 'til I tasted you

The more that I know you, the more I want to
Something inside me's changed
I was so much younger yesterday
You know just what to say
Things that scare me
I should just walk away but I can't move my feet
The more that I know you, the more I want to
Something inside me's changed
I was so much younger yesterday, oh

I didn't know that I was starving 'til I tasted you
Don't need no butterflies when you give me the whole damn zoo
By the way, by the way, you do things to my body
I didn't know that I was starving 'til I tasted you
I didn't, I didn't, I didn't, didn't... I tasted you
Don't need no, don't need no, don't need, don't need... the whole damn zoo
By the way, by the way, you do things to my body
I didn't know that I was starving 'til I tasted you

You know just how to make my heart beat faster
Emotional earthquake, bring on disaster
You hit me head on, got me weak in my knees
Yeah, something inside me's changed
I was so much younger yesterday, aye
So much younger yesterday, oh, yeah

I didn't know that I was starving 'til I tasted you
Don't need no butterflies when you give me the whole damn zoo
By the way, by the way, you do things to my body
I didn't know that I was starving 'til I tasted you
I didn't, I didn't, I didn't, didn't... I tasted you
Don't need no, don't need no, don't need, don't need... the whole damn zoo
By the way, by the way, you do things to my body
I didn't know that I was starving 'til I tasted you
You, yeah, 'til I tasted you
By the way, by the way, you do things to my body
I didn't know that I was starving 'til I tasted you

The more that I know you, the more I want to
Something inside me's changed
I was so much younger yesterday
You know just what to say
Things that scare me
I should just walk away but I can't move my feet
The more that I know you, the more I want to
Something inside me's changed
I was so much younger yesterday, oh

I didn't know that I was starving until I kiss you
Don't need no butterflies when you give me the oh oh zoo
By the way, by the way, you do things to my body
I didn't know that I was starving until I kiss you
(I didn't know that I... I didn't know that I... 'til I tasted you)
(I didn't know that I... I didn't know that I... 'til I tasted you)
By the way, by the way, you do things to my body
I didn't know that I was starving until I kiss you

You know just how to make my heart beat faster
Emotional earthquake, bring on disaster
You hit me head on, got me weak in my knees
Yeah, something inside me's changed
I was so much younger yesterday, aye
So much younger yesterday, oh, yeah

I didn't know that I was starving until I kiss you
Don't need no butterflies when you give me the oh oh zoo
By the way, by the way, you do things to my body
I didn't know that I was starving until I kiss you
(I didn't know that I... I didn't know that I... 'til I tasted you)
(I didn't know that I... I didn't know that I... 'til I tasted you)
By the way, by the way, you do things to my body
I didn't know that I was starving until I kiss you
You, yeah, 'til I kiss you
(I didn't know that I... I didn't know that I... 'til I tasted you)
By the way, by the way, you do things to my body
I didn't know that I was starving until I kiss you

The more that I know you, the more I want to
Something inside me's changed
I was so much younger yesterday
Videos
REFERENCES